About Us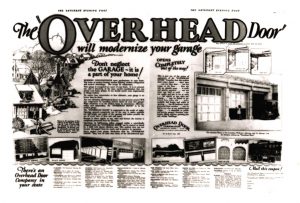 Overhead Door Company of Waterbury has provided industry-leading garage door products, sales, installations, repairs, and prompt service to the Waterbury area for over 40 years. The Waterbury franchise changed hands in December 2008, relocating from Prospect to Watertown.
We serve Middlebury, Beacon Falls, Watertown, Southbury, Bethany, Wolcott, Woodbury, Seymour, Prospect, Oxford, Ansonia, Cheshire, Thomaston, Plymouth Naugatuck, Morris, Bethlehem, and Derby. Overhead Door Company of Waterbury is available to cover New Haven and Litchfield Counties in Connecticut.
For more information about the Overhead Door Company of Waterbury, we invite you to explore this website. Give us a call at 860-274-3332 or toll-free at 877-702-DOOR (3667). You may also visit our showroom Monday through Friday, 8 AM – 5 PM, and Saturday from 8 AM – 12 PM at 56 New Wood Road, Watertown, Connecticut.
Overhead Door Company of Waterbury provides the homeowner and contractor with the highest quality residential and commercial products, along with the experienced knowledge of our sales professionals, installers, and staff.
Overhead Door Company of Waterbury is a proud member of the Connecticut Department of Consumer Protection, the International Door Association, and the Waterbury Chamber of Commerce.