Overhead Door Service & Repair
Need Service on your Garage Door?
Overhead Door Company of Waterbury installs new garage doors/openers and repair exiting garage doors and openers.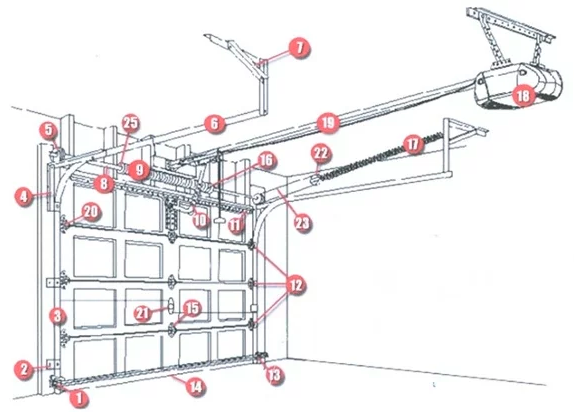 Safety Photo Eyes
Track Brackets
Track, Vertical
Flag Bracket
Cable Drums
Track, Horizontal
Angle Iron Brackets
Shaft
Torsion Spring
Quick Disconnect Door Arm
Top Fixtures
Hinges, Graduated
Bottom Fixtures
Weatherstripping
Hinges, Cener
Winding Cones
Extension Springs
Garage Door Opener Parts/Access
Rail Components
Rollers
Locks/Handles
Pulleys/Sheaves
Cable
Bearing Plates
FAST & PROFESSIONAL SERVICE
Overhead Door Company of Waterbury responds to service calls within 24-48 hours, and we take care of your request as quickly as possible. We also have after hour emergency service for commercial emergency clients in our area: hospitals, ambulance, fire house, and some 24 hour businesses, We have a staff of trained professionals who are equipped to handle any problem. Our GPS outfitted truck fleet can get to you whenever. Our service department is second to none.
COMMON OVERHEAD DOOR PROBLEMS THAT WE FIX
Overhead Door Company can fix your garage door problems big or small. Some common problems that we fix are: broken garage door opener, broken cables or springs, problems with tracks, hinges, and pulleys. We have an extensive parts department with many parts in stock, so we can fix most problems quickly without having to order additional parts.
COMMERCIAL & RESIDENTIAL SERVICE
We service both commercial and residential overhead doors. We have the trained technicians to work on all types of overhead doors, garage doors, grilles, openers, and other accessories and parts. Our service department is quick to respond to requests, and we can have your commercial or residential overhead doors working in no time.
OUR CONNECTICUT SERVICE AREA
Overhead Door Company of Waterbury serves New Haven, Litchfield and some Hartford Counties in Connecticut. We come to you anywhere in these two counties for estimates, installation, and repairs. Our service area includes the towns of Watertown, Waterbury, Middlebury, Beacon Falls, Southbury, Bethany, Wolcott, Woodbury, Seymour, Prospect, Oxford, Ansonia, Cheshire, Thomaston, Plymouth, Naugatuck, Morris, Bethlehem, Derby and Shelton just to name a few. Use our online contact form, or call us today to set up an appointment!