Brief History of the Garage Door
The word garage comes from the French garer – to shelter or protect. And that was its purpose – to shelter and protect the vehicle.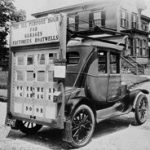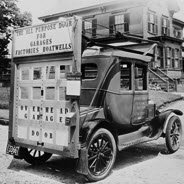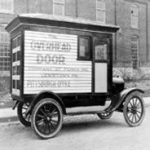 As the car worked its way into society, so did the need for somewhere to store it. Cars were first kept next to the horses in the carriage house and people who had cars in those days were usually of higher class than most so, having your fancy new car smell like horse manure just would not do!
The first garages were actually a lot like our modern-day parking lots, but on one level. People figured that if they could store more than one horse in a barn, then perhaps they could store more than one car in a similar structure. This system worked well until about 1910, when there became too many cars for the garages to accommodate.
The carriage house had worked well before, if only they could get rid of those smelly horses. And that led to the invention of the garage, as we know it today. They were simple structures and, of course, had a door, because on of the purposes was to protect the car from the elements. It was a double door, attached to the garage with strap hinges that opened outwards. The doors were subjected to heavy wear and tear with the hinges creaking, screw would get bent and eventually fall out being open and closed almost daily. Also, if there were snow on the ground, it would block the doors so they could not be opened until all the snow was shoveled around them. Then came the sliding track doors, a more versatile garage door design but that meant that the garage had to be at least double the width of the door.
Then a solution to the question of space came with the invention of the overhead door™ by C.G. Johnson in 1921 the founder of the Overhead Door Corporation™. This door could be lifted upwards, folding parallel to the garage ceiling.
Five years later, in 1926, Mr. Johnson also invented the first electric garage door opener.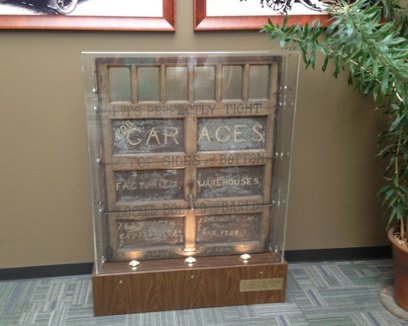 In 1921 C.G. Johnson and his wife toured trade shows and county fairs demonstrating the "Overhead Door™" with a miniature garage door mounted on a Ford model T truck. The actual door is above displayed at the corporate office of Overhead Door Corporation™.
For over 90 years, the Overhead Door™ brand has stood for product quality and expertise, as well as professional service.

From commercial and industrial overhead doors™ and access systems to residential garage doors and openers, Overhead Door Company of Waterbury™ combines quality, dependable products with reliable service to consistently give home and business owners confidence and peace of mind.


Tags: C.G. Johnson, Carriage House, History Garage Doors